How to Enhance Productivity with Microsoft Power Automate
Automating menial tasks can be a powerful way to enhance your productivity and create a more efficient work environment. We live in an era of unprecedented access to tools and computing power that are able to streamline many tasks that you do on a daily basis. In this article, we take a look at the process of utilizing Microsoft Power Automate to automate tasks, and how to determine what tasks to automate and which ones to perform manually.
Defining Problems
When starting an automation process, looking at which processes are taking up time, resources, or personnel from projects where they could be better used is a good place to start. Many manual processes companies use require a high amount of oversight, which in turn takes away valuable time and personnel from initiatives that could be creating real business value.
Additionally, these processes use many different programs and tools that take multiple sessions. This invites in many more opportunities for human error, which endangers the end goal of the process itself. Automating tasks like these eliminates the human error element from program to program, and saves time otherwise spent troubleshooting and tediously overseeing these tasks.
Get Started Automating With Power Automate
Getting started automating tasks is easier than most people think. The important thing is to know what you want to automate, have access to the proper tools and information, and make sure that you are paying attention to details. Microsoft Power Automate makes this process easy, and SUCCESS Computer Consulting can walk you through a few easy steps to get started.
1. Go In With a Plan
Once you have identified the process, it is important that all steps of the process you wish to automate are outlined so that nothing gets missed. Sit down and record each step in the process, keeping in mind that no detail is too small. For example, if you were automating the process of building a peanut butter and jelly sandwich, you wouldn't simply write "get the peanut butter and spread it on the bread," because then you would have peanut butter on the outside of a bread bag that you spread with your fingers. Being intentional and specific about each step in the process is the only way to ensure the automation takes. In the PB&J example, it might look something like this:
take out the peanut butter and jelly
remove two slices of bread
open both jars of condiments
use a knife to remove the peanut butter from the jar
and then use the knife to spread it on one side of the bread, and so forth.
2. Determining What To Automate
Determining what goes into a task, and it's value, can help you determine whether or not that task is valuable to automate, if it needs to stay manual, or if it is a task that can be removed from the workflow all together. The infographic below can help you determine what tasks are ripe for automation, which ones should be delegated to another team, and which tasks are better left undone.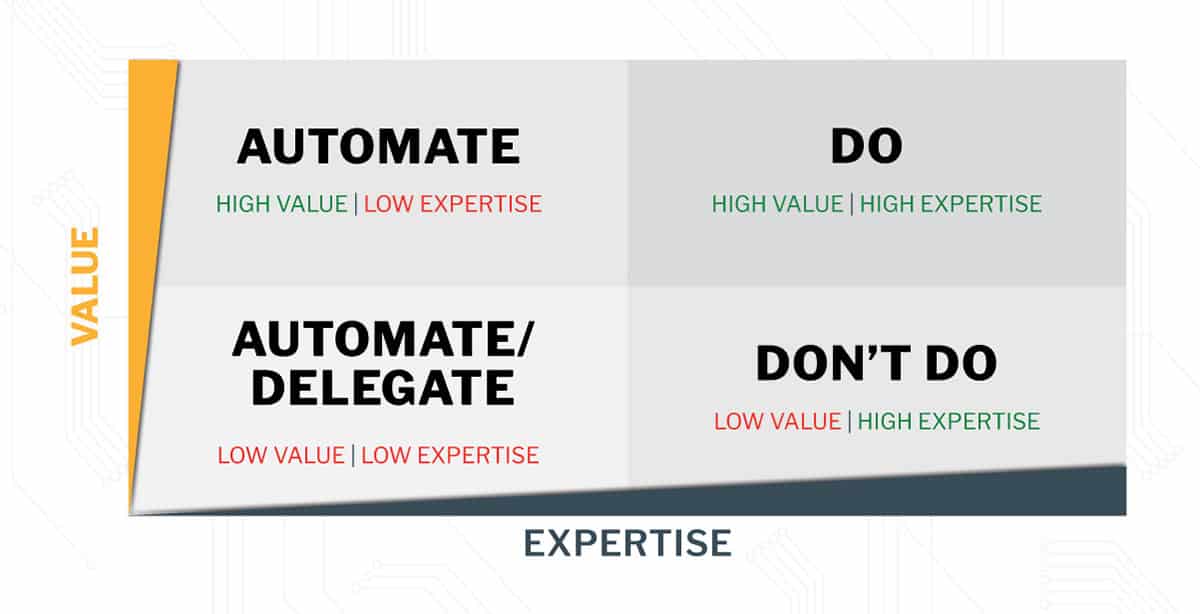 As you can see, high-value, low-expertise targets are ideal for automation, as they can be taken care of by simply automating tasks, freeing employees from the monotony of the job while still retaining the value. These are tasks like data entry, and other things of that nature. Low-value, low-expertise tasks are also a good option to automate, as these just take time away from a day that could be spent elsewhere. A high-expertise task usually can't be automated, and in that case if it is high-value, it should be completed manually. If a task is low-value but requires high-expertise, removing it from the workflow or finding an alternative may be advisable.
3. Define Your Process
Once you have identified the processes that need automation, created a plan, and written out possible tasks within that process, it is time to get everyone involved. Bring in any people or resources that will be affected by this automation, and make sure that everyone is on board. Once the process is defined and resources are gathered, you are ready to automate.
Watch the video below to learn how to get started with Microsoft Power Automate in less than 10 minutes. Password: SCC
Work With a Trusted Partner
At SUCCESS Computer Consulting, we believe in establishing a strong relationship with our clients to help them succeed. From helping manage security to understanding new systems that we can help install, we keep on the cutting edge of technology so your business is as up-to-date as possible. To find out more about SUCCESS Computer Consulting, or to contact us, visit our website https://successcomputerconsulting.com/.