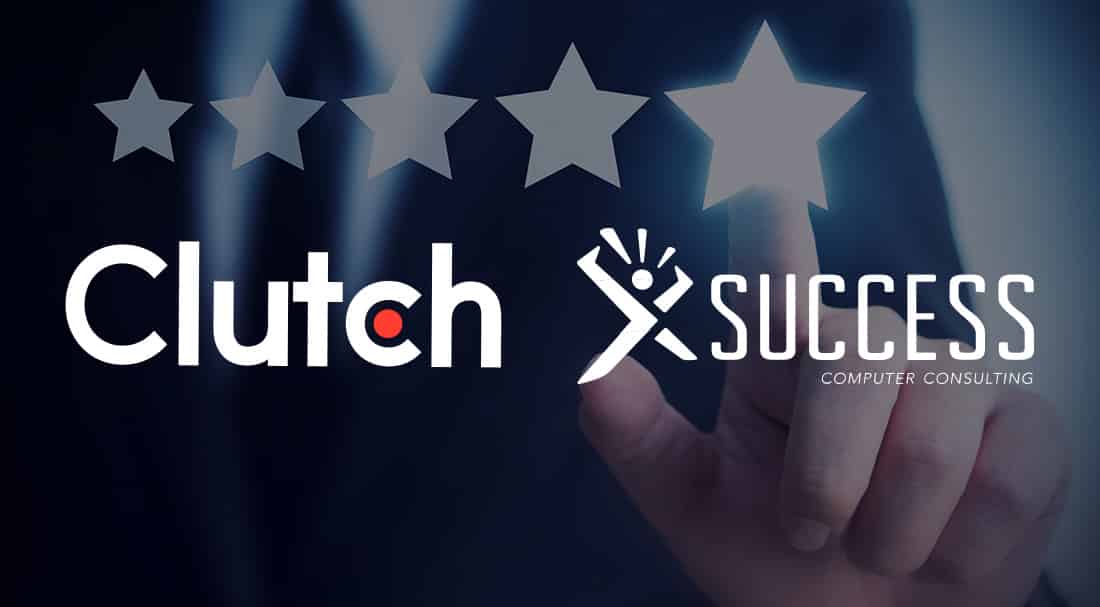 SUCCESS Computer Consulting Obtains 5-Star Review on Clutch
At SUCCESS Computer Consulting, we provide best-in-class IT solutions that help increase your business efficiency and protect your data. We're a collective of reliable tech experts that delivers top-notch support and consulting services to overcome your biggest IT and cybersecurity challenges. Founded in 1992, our vast experience can be the resource you need to achieve modern business success. Our team's credentials in cybersecurity are unmatched: 
CISSP | Certified Information Systems Security Professional
CEH | Certified Ethical Hacker
Security+ | Core skills necessary for a career in IT security
CCNA | Cisco Certified Network Associate
CMMC-RP | Cybersecurity Maturity Model Certification – Registered Practitioner
Helping Organizations in the Twin Cities
 For 30 years, it's been our mission to help small- and medium-sized organizations in the Twin Cities navigate the evolving tech industry through cybersecurity, managed IT services, cloud consulting, and leadership. Client satisfaction is at the heart of our efforts. As such, we're excited to share one of our reviews on Clutch.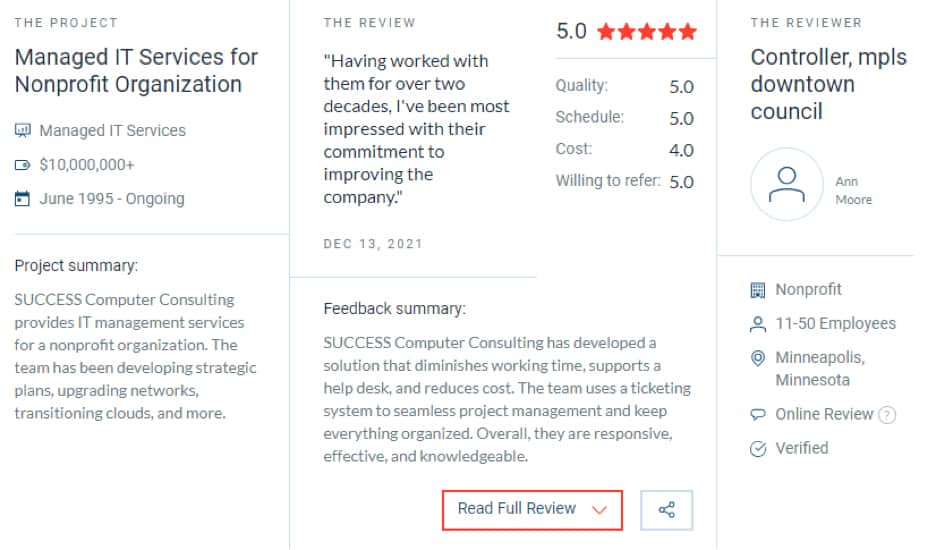 Clutch is a B2B ratings and reviews platform that evaluates technology service and solutions companies based on the quality of work, thought leadership, and client reviews. A rapidly expanding startup, Clutch has become the go-to resource in the agency space. Their review process is reliable and transparent. We're grateful to those of our clients who have taken the time to provide feedback. 
A Clutch Review
Our inaugural review comes from Ann Moore, who has partnered with us since 1995. For many years, the client has put her trust in our managed IT services. We are proud of the great work we've accomplished together.
In their interview with the analysts at Clutch, the client shared their experience with us and how our solutions have been a game-changer since the beginning of our engagement.
"Initially, SUCCESS was recommended by an IT professional consulting with our organization. I stayed with them due to excellence in technical performance, strong communication, and the efficacy of solutions recommended.
Over 26 years, I've worked with SUCCESS on IT management and projects. The consistent elements have been: meeting their performance commitments, developing a deep understanding of our company's needs and tailoring solutions appropriately, never upselling, and developing solutions that met our needs.
They understand that all companies and individuals always have potential to improve, and they make the investments needed to foster that improvement."
— Ann Moore, Controller, MPLS Downtown Council
If you would like to leave us a review, head to Clutch.co and choose "Leave a Review," in the top toolbar. SUCCESS was recognized as one of the top 100 Managed Services Providers in the nation in 2020 by CRN, and we are named among the top agencies on The Manifest, Clutch's sister company.
Need effective IT solutions? Let's talk about what we can do to help.