6 Ways to Reduce Email Using Microsoft Teams (How Many Are You Using?)
Last updated July 2022
Are you currently using Microsoft Teams? If not, you should be. Most of us receive about 100 emails daily, and on average, we send about 40. That's a tremendous amount of information to process, keep track of, and respond to. This information overload can be especially challenging in team-centric and project-based cultures, where staying informed leads to reply-all nightmares and document sprawl. The modern workplace is more collaborative, and team-based communication is now a must-have. That's why platforms like Microsoft Teams grew so quickly during the pandemic.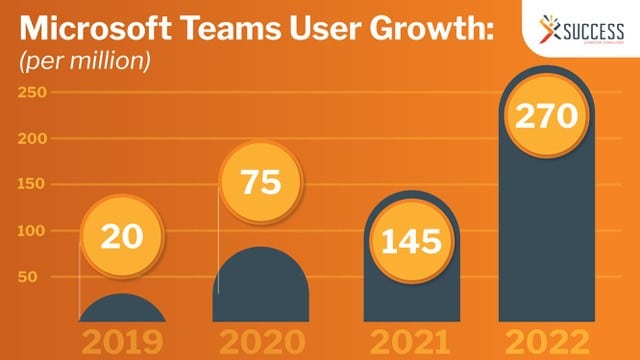 Teams brought chat, meetings, calls, files, notes, and tools into one centralized workspace. And many of you now routinely use Teams to connect with the people, content, and tools you need to do your day-to-day work.
But are all your users getting the full benefit of Microsoft Teams? Or could your company still benefit from taking a hard look at your email practices? We'll get you started. Here are six ways to reduce email using Microsoft Teams.
1. Forward Emails for Internal Discussion using a Teams Channel Email Address
In many project-based scenarios, emails from a vendor or client require some type of internal discussion before a reply is sent. Instead of forwarding an email to the entire team for feedback, you can forward this email to a channel in Microsoft Teams.
By forwarding an email to a relevant channel in Microsoft Teams, your entire team can view the email and provide feedback in a centralized thread.
2. Share and Co-Author Documents in Microsoft Teams
Teamwork often requires collaboration on team or project-related documents. Instead of emailing a file attachment back and forth between a group of people and tracking versions, share the document in Microsoft Teams. This allows your team to harness the power of co-authoring in the cloud.
Co-authoring allows multiple users to edit a document at the same time, and, by working in the cloud, everyone has access to the most up-to-date document. Even more, you can have a conversation around the document in Microsoft Teams with your teammates while you work.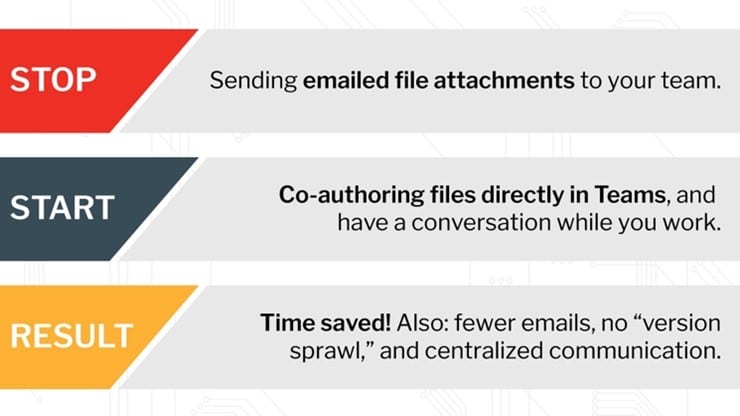 3. Share Meeting Agendas in Teams
Unprepared attendees, lack of context, and decentralized locations for meeting materials are all dysfunctional characteristics of a modern meeting. Agendas sent via email often get buried, and when it's time to start the meeting, users scramble to search their inboxes to locate the materials.
The solution? Teams.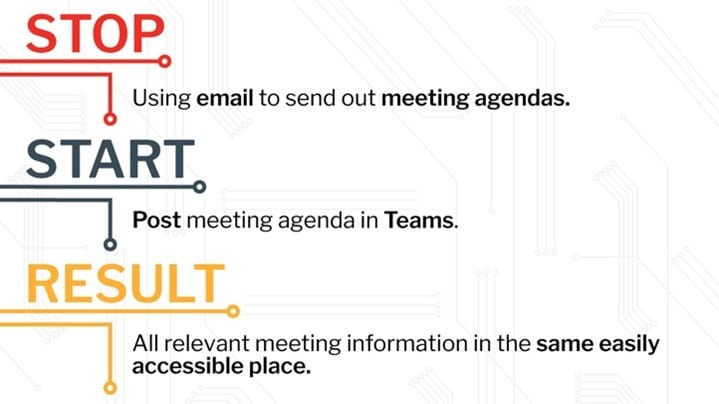 4. Use Group Chat and "Meet Now" for Ad-Hoc Conversations
Need to ask a dispersed group a quick question?  Using email can be so inefficient. Try group chats to run a question by coworkers like you would if you were all in the office together.
Want to talk something out instead? Use the "meet now" feature to hop on a call and screenshare, to provide context to your conversation.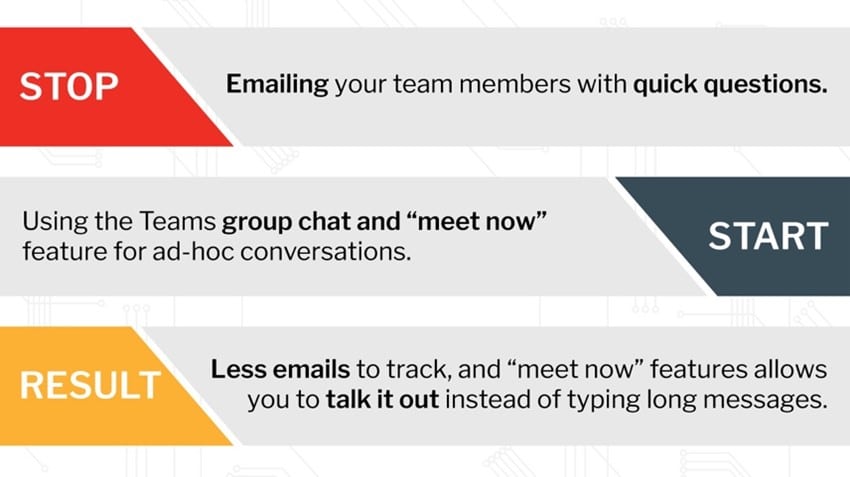 5. Use Teams and Channels for Intentional Collaboration
Then there's all those team and project updates—how do you start organizing and filing those? Who do you copy? Who needs to be on the reply-all?
Microsoft Teams allows you to tune into the conversations that are important to you, instead of sorting through emails determining if it requires a response.
By posting project and team related communications in Teams, you can require the attention of certain members by using @mentions, while also providing visibility to the rest of the team if they are interested. The inherent architecture of your Teams and Channels requires communication to be "organized" in a relevant space, so if it needs to be referenced in the future, it's accessible by the entire team, instead of buried in a folder in your inbox.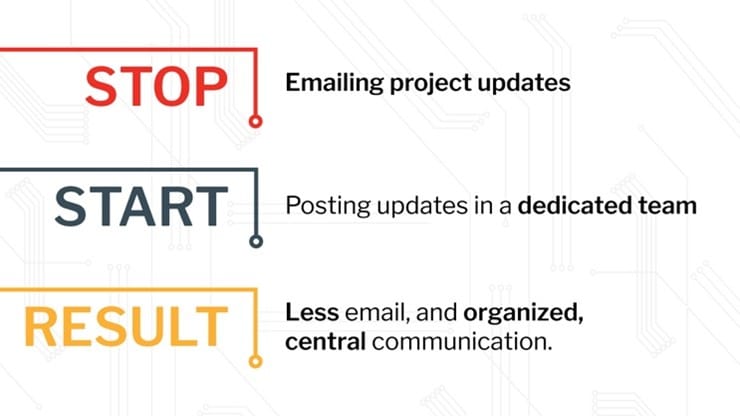 6. Work from home / OOO FYIs
Most employees are involved with multiple teams and projects at any given time, meaning multiple communications when alerting our teammates to the fact that we're going to be out of the office.
By using Microsoft Teams, you can draft an OOO message and select "post to multiple channels," which brings up a list of your Teams and Channels. This makes it easy to let everyone know about your availability without adding to their inboxes.
Bonus Tip
While these six tips are a great place to get started when it comes to pruning your email inbox, there's also one final rule of thumb: if you're drafting an email to a distribution group like sales@, marketing@, design@, this is your trigger to bring that conversation into teams!
Discover What's Possible in Microsoft Teams
One of the biggest challenges to large platforms like Microsoft Teams is knowing what to implement. At SUCCESS Computer Consulting, we help your team get more out of Microsoft Teams and the entire Microsoft 365 ecosystem of tools. Request a call and discover what's possible for your business.