Using Microsoft Power Apps and Power Automation to Streamline Tasks (It's Easier Than You Think)
In our consulting work with hundreds of Twin Cities-based companies, we hear similar feedback about Microsoft 365. Applications like Microsoft Teams were a lifesaver during the pandemic, but most technology leaders know they aren't realizing 365's full potential. Add in how Microsoft's ecosystem is constantly expanding, and many leaders aren't sure where to start or whether adding new applications into the mix makes sense.
If you take away nothing else from this overview, let it be this: some of the tools you're not using could be game-changing for your business.
There Has to Be a Better Way
Have you ever completed a series of mundane tasks and thought "there has to be a better way?" You're not alone. Plenty of users get frustrated when processes are:
Manual and require that you log in and out of different programs to complete.
Time-consuming which makes the situation worse when you're already behind.
Complex because you're coordinating several tasks among multiple team members.
Hard to correct if you miss a step.
If you're the type of person who notices these scenarios, it's a good thing. It means you're process minded, know how to identify areas of improvement, and want to level up how work gets done. You just need the right tools.
What are Microsoft Power Apps and Power Automation?
The Microsoft Power Platform is a collection of applications within the Microsoft ecosystem that help users analyze data, build solutions, automate processes, and more. We find that the following two tools, in particular, help clients increase their productivity.
Power Apps allows anyone to build custom apps using "prebuilt templates, drag-and-drop simplicity, and quick deployment."
For example, you can use Power Apps to create an interface for staff members to submit their PTO requests.

 
Power Automation empowers anyone to "use low-code, drag-and-drop tools and hundreds of pre-built connectors that automate repetitive, mundane tasks with ease."
For example, you can use Power Automation to automate the approval process that follows a PTO request.

 
There are other applications on the Microsoft Power Platform, including Power BI (data analytics),  Power Virtual Agents (chatbots), and Power Pages (web pages). These applications work together seamlessly through a consistent Microsoft interface and security environment. 
What are the Benefits of Microsoft Power Apps and Power Automation?
The primary benefits of using Power Apps and Power Automation include: 
Easy to learn – if you feel comfortable navigating PowerPoint or Excel, you have the foundation you need to get started.

 

No coding – you can use these tools with little to no understanding of development.

 

Save money – the tools are part of a single, cost-effective platform that's robust enough to meet your needs.
500+ connections – you can easily connect to various data sources in the Microsoft Dataverse (e.g., OneDrive, SalesForce, Teams).
Scale with confidence – the tools can unify your branding efforts.

 
In addition, using Power Apps and Power Automate leave you with a digital "paper trail," so if you need to go back and review history, everything is readily available. 
How to Get Started with Microsoft Power Apps and Power Automation
Our advice is to start with a plan. Identify the flow you want to automate and create a list of each task within the flow (get specific and think about it from the perspective of someone who's never completed the process before). Then, ask three questions about each task: 
What is the value and expertise balance of each task?

Learn more about this concept

.

 

How much time does the task take? Generally, the tasks that take the least time are the best candidates for automation.

 

What programs do you use for the task? The Power Platform has more than 500 connectors that are code free and connect your programs.
Next, create a flow chart that ensures you don't leave out a step and highlight what steps within the flow you wish to automate. This will serve as your automation roadmap.
Want to Learn More?
At SUCCESS Computer Consulting, we use applications like Microsoft Power Apps and Power Automation daily. Our in-house experts Dee Ramos, Continuous Improvement Engineer, and Alex Hapka, Business Integrations Analyst, hosted a virtual event about how you can get started. Watch the replay here.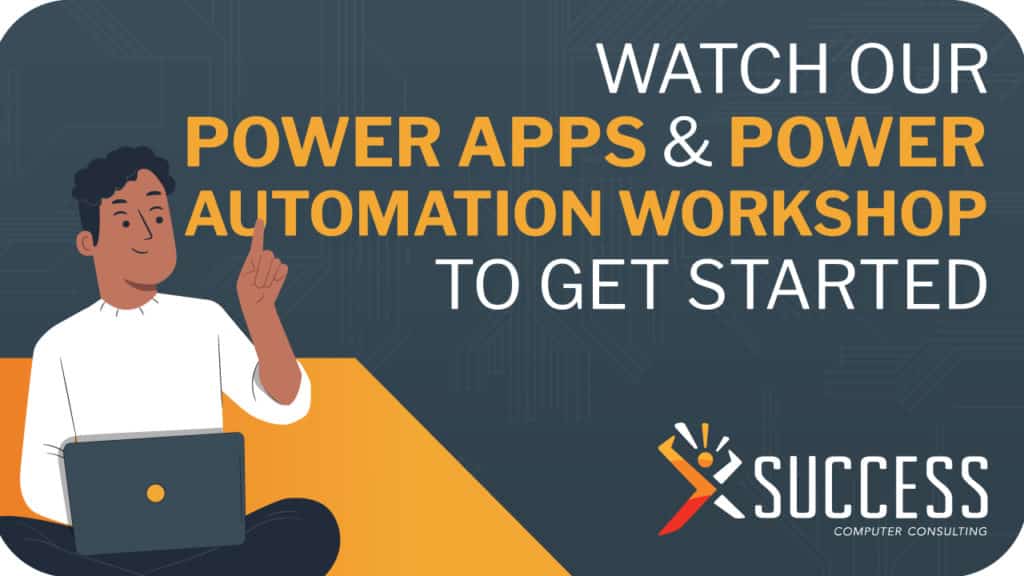 Work With a Trusted Partner
At SUCCESS Computer Consulting, we believe in establishing a strong relationship with our clients to help them succeed. We provide a range of IT consulting services for mid-sized companies in the Twin Cities. Right now, many of our clients are focused on getting the most out of Microsoft 365. Our Microsoft 365 installation and education services can help your team:  
Work better together
Build your business
Safeguard your data
Simplify daily operations
Stay operational
Contact us today if you need a trusted partner to help you achieve your business goals faster.